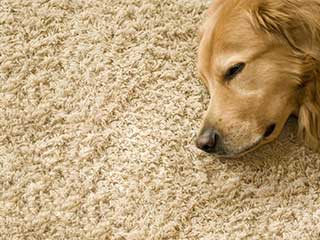 Pet Hair Removal Services Near You
When your dog or cat leaves a hairy mess on your carpets or rugs, you need a pet hair removal pro to help. Pet stain removal is a service you may need when you get a new puppy. But pet hair removal? Even old dogs that learn new tricks (😉) can sometimes make a mess. Especially if they get sick or get on in years and start shedding constantly. Pet hair removal may seem simple enough, but the hairs can really stick. When it's serious shedding, it's going to take some effort. Not on your part, of course. Carpet Cleaning Agoura Hills offers expert pet stain removal services to all nearby pet owners. Let us help save your carpet and remove the hairs, as well as any odor and stains your dog or cat left. The best pet stain removal service in LA is a stone's throw away.
Pets Should Be Seen And Not Scented
While some of the furrier family members are kind enough to only leave a bit of pet dander here and there, there are some pets that will seemingly leave an entire animal in their absence formed simply from shedding unwanted fur. Pets are important members of any family and therefore deserve the same living environment we expect for ourselves. Removing this unwanted pet hair day after day can become frustrating and leave you feeling overwhelmed. Carpet Cleaning Agoura Hills offers special services to pet owners, including pet hair removal, and odor and stain removal.
Cleaning Up After Your Pets
As pet owners, just the same as adoring parents, we all would like to believe that our pets are perfectly clean and well-behaved. After all, it is said that our pets are a reflection of ourselves. Though, just as with children, our furry family members can surprise us with a few new scents roaming around the house sometimes. Carpet Cleaning Agoura Hills is here to allow you to love all the wonderful things about your furry family members while we take care of the mess with our professional carpet cleaning solutions, leaving you with a home you can take delight in. We will gladly send a member of our staff to your home to take care of all of your carpet cleaning needs, and when we leave your beloved pet will truly be seen and not scented. We want to make it our commitment to you that we are here to lift the burden or household stains, odors and pet dander off of your shoulders and take them on ourselves. Together we can conquer all your cleaning needs without you having to lift a finger. Whenever you need us, we can promise you, we will be there!