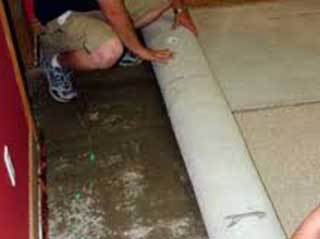 Some people are under the impression that moisture and the appearance of mold on carpets are the results of serious flood problems and water leakage but, in reality, they can be the result of daily activities, which produce many stains. Carpet cleaning is the most effective way to deal with such problems and prevent the wearing down of rugs and carpets not only for appearance purposes but, mainly, for the prevention of allergies and similar health problems.
Water Damage Problems in Modern Homes
Modern households have too many water pipes in various parts of the house and they are the prime cause for water damage. If you have wall to wall carpets, which do not dry easily, you need to check the status of water pipes often and never forget mold inspection to rugs, especially if they are placed close to pipes. If you detect the smallest sign of mold on carpets, you need to take care of the leak first and then clean them well with vinegar and use fans to dry them well.
Modern families eat in different hours and usually in the sitting room and, as a result, carpets are the usual victims of food and drink residues according to specialists at Carpet Cleaning Agoura Hills. Spots are absorbed in seconds and have the tendency of reaching the deepest parts of rugs and spread and that's why stain removal must take place immediately. In most cases, some water mixed with cooking soda or vinegar would be enough but if you are dealing with a persistent stain, you could use other, special ecofriendly products.
The bodily fluids of your pets also end up at the bottom of carpets along with their hair creating bacteria, mildew and bad odors. The fastest and most effective and inexpensive method for pet stain & odor removal is spreading some cooking soda on the surface and leave it there overnight but you must vacuum it in the morning.
High feet circulation has as a result the transference of dirt from outside and vacuuming the carpets often is the basic procedure of residential carpet cleaning. If you have rugs, you can transfer them in the open space two or three times a year to clean them better and let them get some fresh air.