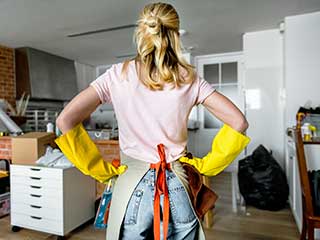 When you need to get rid of dust, dirt, and various other contaminants, professional house cleaning services in your area can provide quick and cheap solutions. Our expertise covers all manners of stain removal for carpets, furniture, tiles, and various upholstery (including curtains). We emphasize home sanitation. That means we offer thorough house sanitization services to remove bacteria and sterilize potentially contaminated areas. Our range of offered services available with our Agoura Hills house cleaning experts covers all your bases. We'll leave your residence (or office space) clean with fresh indoor air.
Cheap Stain Removal Services
Another aspect of the house cleaning services we provide is removing markings of all types from upholstery, floor covers, and more. Stains on your living room sofas? An old couch accumulated too many residues of blemishes and spots? Carpet or rug has clumps of dirt, mold stains, or various other blotches? Leave it to our professional furniture cleaning team to get rid of chocolate, red wine, pet stains, or any other type of smears and smudges. We scrub out and dissolve any residues of dirt, thus eliminating the couch stains without damaging the furniture itself. Should you need expert stain removal services in the Agoura Hills area, our local experts can help you Sunday through Saturday.
Furniture Cleaning and Sanitization
Your favorite couch deserves a loving touch to ensure it remains in good shape for years to come. The same goes for any other piece of furniture in your Agoura Hills house that needs cleaning. We apply our eco-friendly and non-harmful furniture cleaning solutions to remove stains, get rid of mold, and dissolve dirt. We also offer sofa steam cleaning to eliminate dirt without damaging the material. From dusting to thorough rinse and removal of various types of splotches and smudges, our furniture cleaning services ensure your sofas and couches go back to being presentable and clean.
House Cleaning & Sanitization Services For Agoura Hills Area
In the wake of the recent global upheaval, keeping your residence clean and sanitary can feel like It's becoming a struggle. Well, not to worry! The specialized house cleaning services we provide to any residence near Agoura Hills let every customer easily remove dust, dirt, and various contaminants from their home without lifting a finger. Our thorough cleaning services for houses and office spaces include everything from scrubbing off dirt to polishing tiles and cleaning carpets, rugs, furniture, and more. With the use of our non-harmful house cleaning products, we're able to leave your residence smelling fresh and clean. Providing discounts and special deals to all nearby areas, our 7-days a week house cleaning services remain the most affordable and effective home sanitation option around.
Rug & Carpet Mold Removal
Found evidence of fungi of some sort on your floor coverings? Leave it to our professional Agoura Hills house cleaners to eliminate this dangerous fungus with premium safety. We do this without damaging the fibers of the carpets or area rugs, extracting any moisture and eliminating the mold presence without causing discoloration. Whether it's in your bedroom, bathroom, kitchen, or other areas, our mold removal services will have your house free from this polluting spore in no time. Get in touch with us anytime for speedy house cleaning services of any type.