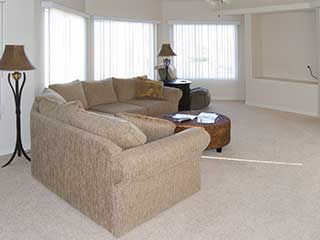 A microfiber sofa is a boon for anyone afraid of spills and liquid stains assailing their couch. Nevertheless, even a microfiber sofa, with its dense array of fine fibers and built in stain resisting power, will occasionally need to undergo sofa cleaning. Follow the instructions associated with the specific type of sofa and be sure to clean up any stains quickly to keep the sofa looking clean.
Follow the Directions Carefully
As with other types of upholsterycleaning, you will need to check the tag to see what type of cleaning agent is safe for the couch. An S indicates that it will need a solvent-based solution whereas a W means a water-based agent, and W-S means that both types of sofa cleaners should be safe to use. Always test your cleaner in an area you will not see often first, to make sure that it is right and if you cannot find the tag, test first or call the manufacturer. Since stains can happen quickly, it may be best to know which type of cleaner you need in advance.
Do Not Let Spills Sit
Couch cleaning is all about responding to spills as quickly as possible, and microfiber sofa cleaning is no different. If anything, it is more important to react quickly to a spill on this type of sofa because they are made to repel liquids and while there is more time before it is absorbed, that time is best spent avoiding the stain altogether. This is why it is best to have an idea of what sort of stain remover you will need before you need it.
For microfiber stain removal you have two options depending on whether your furniture is rated S, W, or W-S on the tag. For water-based solutions, you can simply sponge it clean with a wet rag and a small amount of dish detergent. Or, if for other types of stains, combine water with a small amount of vinegar for stain and odor removal, then sprinkle baking soda over the area to remove whatever is left. The baking soda can be vacuumed up afterwards. When the sofa is rated S, and a water based solution is not the right idea, you will need to keep an over the counter solvent handy. Always check the instructions and the labels to make sure that the solvent is safe for microfiber sofas and follow them carefully to avoid any damage.
Microfiber sofas are built to be durable and clean, but even they may need some cleaning and stain removal from time to time. Stay proactive, know what type you will need to use, and take good care of the sofa to keep your product nice for years.